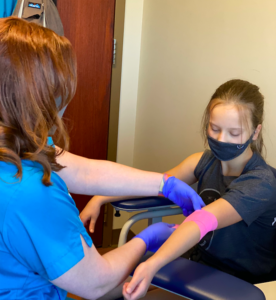 To identify what airborne allergens or food substances you are allergic to, we generally perform a prick skin test. Allergy testing can be done by a blood test, or phlebotomy, as well. While in some cases, skin testing can identify an allergy that is missed by blood testing, the latter can be useful for evaluating and managing food allergies. Skin testing allows us to obtain results and to develop a treatment plan at the time of your visit, but sometimes it may be helpful to prepare children for blood testing as well, especially if food allergy is a concern. Our phlebotomist, Emily Alexander, is wonderful and takes a personalized and caring approach to her patients.
Emily shares her story below:
I started my lab career at the age of 18 as a lab assistant, learning all the ins and outs of how a laboratory works. My mom had previously worked in that same lab, so it was easy for me to get started on the right foot from coworkers that knew of me. My interest was piqued at a young age, I got to ask a lot of questions about why and how a lab works. Microscopes, tubes, beakers, needles, and the importance to remember that behind each tube being a person.  
My next step was learning phlebotomy from a team of people that instilled the motto of "lab work is the gateway of going home." Treating each child as if they were our own and the importance of collecting lab tests properly. That journey started in 2007 at a high-ranking local pediatric hospital where the patients and co-workers treated each other as family. The understanding that patients could be scared and apprehensive when I walk into the room was not to be taken lightly. The parents are often nervous and children can sense it and feed off of it. Taking a caring and gentle approach to each baby, toddler, child, and teenager means as much to the patient and parents as it does to me.   
After years of building trust and confidence with families and their physicians (and getting their sometimes complex laboratory orders completed) is how I met the providers, Dr. Warrier, Dr. Borts, and Dr. Vitale. 
I switched gears to private practice in 2016 at Allergy Asthma & Food Allergy Centers, and I continue to take pride in comforting a wide range of ages from babies to adults. I listen to their concerns and their previous experiences. Children like to hear that everyone gets their blood collected at one point in their life and that they'll be okay before/after the labs are collected.
Whether the families have driven for hours or minutes to get lab work done, I like for them to feel at ease with me. When it comes down to the actual process of blood collection, it's always best and helpful for the patient to be hydrated and to try to keep from drinking sodas or anything with caffeine. I use a comforting tone while I speak to the children while making eye contact. I like to give the children my honest step-by-step instructions of how it'll be done and with a few countdowns of 1-2-3's so there aren't any surprises. 
One thing I make sure to do is always put the tourniquet on top of the sleeve and not too tight to cause much discomfort or possible pinching. With that being done at the beginning, I believe that it sets the stage for a more peaceful collection. I always ask how they're doing and love having conversations about their favorite things, like activities, games, shows, or whatever is on their mind. These hidden gems are the best part of my day. Keeping their minds off of whatever is happening has a great calming effect. 
As parents, we don't ever want to feel like we're putting our kids in scary situations. Blood draws can be hard on parents, so be mindful of that. Your little ones feel your energy. For them, manage your fear, anxiety, or apprehension as best you can. I would refrain from telling your child too far ahead of time that it will hurt or making a big deal of it. For some families, it may be helpful that the less nervous parent or caregiver is with the child during this appointment. When the patients and families leave with a smile on their faces and the peace of mind of having accurate results, I've done my job.