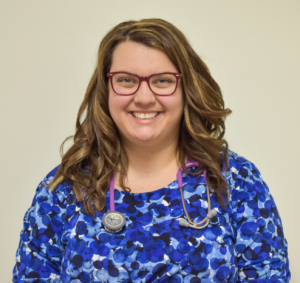 We are pleased to introduce you to Dani Loftus! She is a Certified Family Nurse Practitioner (FNP-BC) & Certified Pediatric Nurse (CPN) who treats people of all ages at the Allergy, Asthma & Food Allergy Centers (AAFAC). Learn more about her in the Q&A below:
Q: How long have you worked at AAFA centers?
A: I joined AAFAC in November 2019. This is my first position after graduating with my Doctor of Nursing Practice (DNP) Degree in May 2019. Prior to joining AAFAC, I worked at St. Louis Children's Hospital, Shriners Hospitals for Children, and Southern Illinois University Edwardsville.
Q: What inspired you to be a nurse practitioner? 
A: I was inspired to become a nurse from growing up taking care of my grandmother who had diabetes. She was an inspiration and I miss her dearly. 
I wanted to become a nurse practitioner after experiencing the health care system from the perspective of the patient. In 2014 I had two tumors removed from my tongue, and I was hospitalized twice. I had to relearn to eat and how to talk. It was through that experience that I wanted to become a nurse practitioner. I chose to pursue my education through SIUE as I had excellent experiences attending the school for both my bachelor's and master's degrees.
Q: What do you love most about your job?
A: I love that I am in an environment where I can continue to learn something new every day. I enjoy working with a physician team that is passionate about teaching!
Q: What are your hobbies outside of work?
A: Outside of work, I spend a lot of time with my family and our rescue pets. I enjoy playing board games and exploring new places. Travel is a passion of mine, and I have been fortunate to see many beautiful places including the Eiffel Tower and the Great Wall of China!