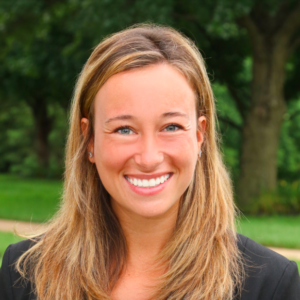 Q: What inspired you to become a Physician Assistant in the field of allergies, asthma, and immunodeficiencies?
A: Actually, I came across this specialty by accident. My physician assistant program provided a general education across a variety of specialties. I knew I wanted a career where I had an opportunity to work with children. I got really lucky to find this specialty (and this office). Not only do I get to treat children, but I get to treat families. I really enjoy getting to see patients frequently, and I feel that our work makes a difference in allowing kids and adults to live more normal lives.
Q: What do you love most about your job?
A: I love the opportunity to see people over and over again. It allows me to form relationships with the families and to get insight into how they are truly doing. I really like being there for milestones for families. Whether that is watching them eat their first peanut, or getting them through a winter without terrible asthma exacerbations, I like being there for these families and doing things to improve their quality of life.
Q: What are your hobbies outside of work?
A: Anything outside! I love playing tennis, skiing, and hiking. I can't wait for the nicer weather.