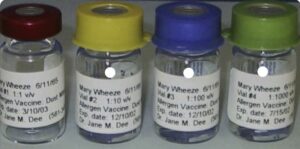 It's that time of the year again! If you are on allergy shots and would like to reorder your allergy extract in this (2022) calendar year so that it can be billed to insurance before 2023, we must receive your order by Friday, December 16, 2022. Any orders placed after that date cannot be completed or billed until January 2023. Guidelines for reorder prior to year-end:
LAST REFILL MUST HAVE BEEN A MINIMUM OF TWO MONTHS PRIOR.
INDIVIDUAL INSURANCE REQUIREMENTS MUST BE MET.
To order extract before year-end, please either:
Send us a message through your Patient Portal Account with "Allergy Extract Refill" in the subject line.
Make the request when getting your shots by the December 16th deadline.
Patients on subcutaneous (allergy shots) or sublingual (allergy drops) allergen immunotherapy must be seen at least once every 12 months to allow your provider to assess your response to treatment. If you have not had a visit this year, it is a good time to schedule your annual appointment and maximize your 2022 insurance benefits and/or flexible spending accounts.